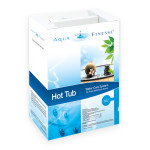 This Is an
AquaFinesse

Just one weekly dose of AquaFinesse offers unsurpassed spa or pool water quality thanks to its unique preventive properties!
Cleans – Crystal clear, clean water
Protects – Gentle on the skin, safe for the environment
Enjoy – Less time maintaining your water, more time to enjoy it!

AquaFinesse water treatment: pure, clean and easy
AquaFinesse is a unique water treatment product for hot tub, whirlpool and swimming pool. A single dose of AquaFinesse per week prevents bacterial re-growth resulting in crystal clear, high quality water.
Who is AquaFinesse intended for?
AquaFinesse is intended for anyone seeking simple, convenient and effective water treatment and maintenance product for their hot tub, whirlpool, or swimming pool. By adding a weekly measured dose of AquaFinesse to the water, you will achieve crystal clear, high quality water, with the extra time to enjoy it.
What are the advantages of AquaFinesse?
Saves precious time in maintenance
Easy to use
Leaves a fresh scent and softens the skin
Reduces the chloride content in the water
Protects you and your luxury investment
Environmentally friendly water treatment
You and your children can bathe safely
Dermatologically tested; gentle to sensitive skin
Optimises your spa experience